If you are looking for a family law attorney in the Statesville, NC area who is dedicated to protecting your best interests, turn to me, W. Sloan Goforth, Attorney at Law.
When compared with other legal issues,
family law
cases are often the most complex and emotionally trying. If you are looking for a family law attorney in the Statesville, North Carolina area who is dedicated to protecting your best interests, turn to me, W. Sloan Goforth, Attorney at Law.
I am capable of successfully handling and fighting for your rights in a variety of different family law cases related to child custody and support, equitable distribution, grandparents' rights, and juvenile law. Not only will I strive to achieve the best possible outcome for your case, but I will also help you understand how the law affects your personal family law situation, so you feel comfortable and confident in how your case is developing throughout the duration of various legal proceedings.
For instance, if you and your spouse are ending your marriage, it is important to keep in mind that property division in a divorce begins with identifying separate property that is owned by one spouse and marital property that is jointly owned by both spouses. This includes houses, cars, bank accounts, businesses, and retirement plans. A monetary value will be determined for each asset. The same process is used for identifying debt. According to law, there are 13 factors for the court to consider in making the distribution. As your family law attorney, I can work with those factors and assist you in determining the value of the property and assisting the court in its distribution decision.
Fantastic experience.
"He told me that he would handle it, and he did. BEST ATTORNEY EVER. Fantastic experience."
★★★★★ Autumn L.
Family Law
If you are looking for a family law attorney in the Statesville area who is dedicated to protecting your best interests, turn to me.
Criminal Law
I fully understand the penalties, both legal and financial, associated with each criminal law case I encounter.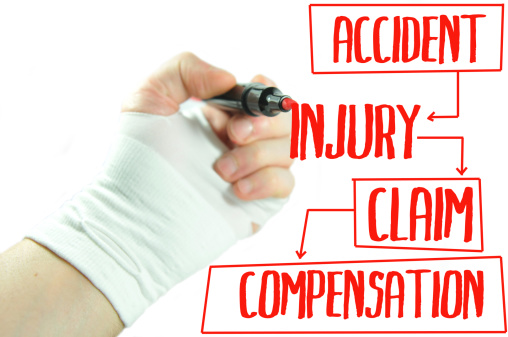 Personal Injury
I have several years of experience acting on behalf of clients who have suffered personal injuries.
If you are struggling with a legal situation, contact me today.
What Documents to Bring When Meeting with a Family Law Attorney
The circumstances surrounding a meeting with a family law attorney are often fraught with frustrations, heartache and stress. Even in the best of circumstances, meeting with a family law attorney is bound to bring up some stressful interactions. I'm W. Sloan Goforth, Attorney at Law, and I will help you through this process and do my best to ensure results you can count on. One of the questions I am asked most often is what my clients need to bring when meeting with a family law attorney such as myself. Here are a few things that I recommend:
Financial Documents- Often the hardest part to sort out when it comes to family law cases is the financial piece, so the more information you can bring to the table, the better! Things like tax documents, income statements, self-employment information and expense reports are all going to be helpful.
List of Questions- In the time leading up to our meeting, keep a running list of questions that you would like answered and bring it with you to our meeting. This will help alleviate stress and anxiety, since you know that you can get your questions answered at the meeting.
Facts About Other Parties- In family law cases, we will need to work together, you and I, to find the best results for your case. This means that I need as much information as possible about your situation, including facts about the other party or parties involved.
I would love to help you resolve your next family law issue. Please contact me today for more information or to set up a meeting.

Please don't hesitate to reach out to me if you are facing a family law issue and feel like you could benefit from having a qualified and experienced lawyer on your side.
---
At the office of W. Sloan Goforth, Attorney at Law, we can help with family law cases for residents of Statesville, Troutman, Taylorsville, Mocksville, Mooresville, Hickory, Iredell County, Alexander County, and Davie County, North Carolina.
Why Choose W. Sloan Goforth, Attorney at Law?
As an attorney, my goal is to use my education and experience to provide each of my clients with excellent legal representation and to help resolve personal and business issues that happen in life. Whether you are going through a divorce, have been injured on the job, or need some assistance with planning for your future, I am here to help.
See what some of our satisfied clients are saying about our legal services.
This is the most dependable and affordable attorney in iredell county!!!thank God for him and his staff!!!they stand by there word and I will never ever use anyone else...you can absolutely put your trust and your money in there hands...they will absolutely not let you down....great work Sloan and goforth!!!God bless you and your staff!!!you forever have my buisness!!!thanks so much keep up the good 👍 work!!!
Desaray Stollings
21:44 19 Sep 23
Just finished phone call with the receptionist and by far professional respectful and hope inspiring. Thank you
Jacob Boyd
17:59 31 Jul 23
By far the best lawyer in Statesville. He's thorough and makes sure you understand what is going on.
Taylor Taylor
02:15 23 Apr 23
I went there for a friend and he's done a good job for him so far and he's on call me with some information on some questions I have and the receptionist is very very nice
troy dennison
02:56 07 Jan 23
A professional attorney in the law.
Carlos Estrada
02:31 05 Jan 23
This man does what he says he is going to do. And he is definitely honest. He helped my sister just as he said he was going to.
James Gregory
00:38 07 Sep 22
At first I was a little upset with the service but in all reality he went above and beyond for me. I've (as well as family and associates) have use him since 2014 I believe. I'd recommend!
Patrice Sawyer
21:33 06 Sep 22
Sloan goforth is the best lawyer in statesville . He knows his business and I have personally used him a few times . I would recommend Sloan to any and every one whether it's a speeding ticket or felony charges Sloan goforth will not let u down and u will not b disappointed. Keep up the great work sloan you are top notch in my book and thank you for last Tuesday that was greatly appreciated.
shannon keiger
02:22 28 Jul 22
This guy is absolutely the best.my frien recommended us getting him and assured us we wouldn't be disappointed and she was right after all the stress on my family with my son having a custody case.well he won and we was so thankful for that.he is very honest with you and I liked that about him.simple walked in and got the job done.my son was very pleased with him.we both would highly recommend him.i promise you won't regret it.i think we will be using him anytime we need a attorney.if he tells you he can help you then pay him and believe him because he will be honest with you.
Tonya justice
21:29 02 Jul 22
Works very hard for his clients.
Zachary Justice
23:26 30 Jun 22
Has gotten me out of several jams in the Iredell Justice System
Debbie Neill
21:45 25 Jan 22
Sloan shows up! Sloan shows up at the jail to see his clients. Phone shows up to court. Sloan is dependable. Slim Goforth goes the extra mile and that cannot be said of all attorneys. He is one of a kind! He shows up he listens, his clients know he cares. You can count on Sloan Goforth!
Emily Robinson
14:31 20 Jan 22
Mr Goforth did good wonderful on my case got my charges dismissed I would refer him to anyone in need of a attorney again thank you Sloan Goforth for all you did for me
Cassandra Plowman
16:55 05 Jan 22
Very good lawyer an will explain stuff to u that u can understand fights for ur rights
Tammy Blair
08:36 06 Dec 21
Tammy Lawrence
00:06 30 Jun 21
Hire this upstanding member of our community. He knows, let's say, the right people. He is smart beyond his years, and if he says it, you can take it to the bank. Just pay him, and let him take care of you, don't bug him, trust me he is the best, no offense to Ashley Cannon, always looking amazing😉, bit God bless Sloan Goforth.JWH
Rebecca Johnston
22:56 20 Jun 21
He returned my call and he treated me with the most respect and was very professional with his job. I highly recommend his services to anyone looking for an attorney. Thank you W. Sloan Goforth
Ronald Dulin (Phil)
19:03 07 May 21
I have used Sloan Goforth on two separate occasions. I found him to be competent, professional and effective. I highly recommend him.
Joshua Hart
13:53 26 Mar 21
I would like to thank the attorney for his help . And for making things work out for me, and my mother. He is one of the best attorney that you would ever want to do business with.
Lester Tucker
07:41 27 Feb 21
He told me that he would handle it, and he did :)BEST ATTORNEY EVER.Fantastic experience.
Autumn Little
18:39 01 Sep 20
michelle Phelps
22:56 06 Feb 20
Wes Harding
20:11 17 Aug 19
Excellent attorney to work with. I recommend him.
Excellent attorney one of the best top notch in North Carolina.
Michael Carr
14:16 27 Aug 18
Be sure you arrive prepared for your appointment.
Similar Services We Offer: